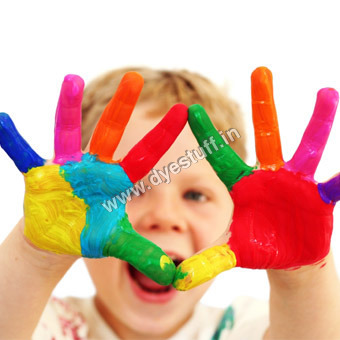 Organic Color Pigment
Product Code : 05
Price And Quantity
Minimum Order Quantity

:

1
Unit of Measure

:

Kilograms/Kilograms
Product Specifications
Usage

:

Coating Pigment, Cosmetic Pigment, Plastic Pigment, Rubber Pigment, Leather Pigments, Paper Coating, Plastic Coating, Rubber Coating
Style

:

Organic Pigment
Physical State

:

Powder
Color

:

Any Color
Product Description
With years of experience in this field, we are able to manufacture, supply and export high quality Organic Color Pigment. We offer these products in compliance with industrial quality standards that ensures high performance and long lasting effect. These pigments are available in different packaging as per the demand of our valuable customers. Organic Color Pigments are highly appreciated for their colorfastness, easy application and brightness features.
Key Features:

Consistency and unique shades
Completely non-toxic,Refractive index
Good tinctorial strength,Cost effectiveness
Organic pigments shows good color strength
Very bright, pure, rich colors
Very good stability to solvents, light, heat, and weathering
Environment friendly,Good dispersibility
Good heat resistance,Non toxic
Why Us ?

Quick response
Fast action on requirements
Competitive price
Best quality products
Timely delivery of products

Packaging Experts
An ISO 9001:2008 Certified Company
Application Area:
Used for the production of screen printing inks, liquid inks and paste inks.
Coloring of plastics, paper, candles, rubber materials, pharmaceuticals, etc.
Other Details
Product List-Pigment Powders-Organics
| | | |
| --- | --- | --- |
| BRAND NAME | Product Name | C.I.NO |
| REXFILL Yellow G | PIGMENT Yellow G | Yellow 1 |
| REXFILL Yellow 10G | PIGMENT Yellow 10G | Yellow 3 |
| REXFILL Yellow HG | PIGMENT Yellow HG | Yellow 12 |
| REXFILL Yellow Transperent | PIGMENT Yellow Transperent | Yellow 12 Spl. |
| REXFILL Yellow DHGX | PIGMENT Yellow DHGX | Yellow 12 (For Liquid water Base Ink) |
| REXFILL Orange G | PIGMENT Orange G | Orange 13 |
| REXFILL Yellow AD | PIGMENT Yellow AD | Yellow 14 |
| REXFILL Yellow AG | PIGMENT Yellow AG | Yellow 17 |
| REXFILL Yellow GD | PIGMENT Yellow GD | Yellow 74 |
| REXFILL Yellow HR | PIGMENT Yellow HR | Yellow 83 |
| REXFILL Orange E | PIGMENT Orange E | Orange 5 |
| REXFILL Orange G | PIGMENT Orange G | Orange 13 |
| REXFILL Toludine Red | PIGMENT Toludine Red | Red 3 |
| REXFILL Singnal Red | PIGMENT Singnal Red | Red 4 |
| REXFILL Red F4R | PIGMENT Red F4R | Red 8 |
| REXFILL Bourdex F2R | PIGMENT Bourdex F2R | Red 12 |
| REXFILL Red 2B | PIGMENT Red 2B | Red 48:2 |
| REXFILL Lake Red C | PIGMENT Lake Red C | Red 53:1 |
| REXFILL Bronze Scarlet CT | PIGMENT Bronze Scarlet CT | Red 53:1 |
| REXFILL Rubine Toner | PIGMENT Rubine Toner | Red 57:1 |
| REXFILL Maroon Toner | PIGMENT Maroon Toner | Red 63:1 |
| REXFILL Suthol Red | PIGMENT Suthol Red | Red 49 |
| REXFILL Red FGR | PIGMENT Red FGR | Red 112 |
| REXFILL Red F5R | PIGMENT Red F5R | Red 170 |
| REXFILL EFGR | PIGMENT EFGR | Red 210 |
| REXFILL Red F2R | PIGMENT Red F2R | Red 2 |
| REXFILL Green | PIGMENT Green 7 | Green 7 |
| REXFILL Beta Blue | PIGMENT Beta Blue | Blue 15:3 |
| REXFILL Alfa Blue | PIGMENT Alfa Blue | Blue 15:0 /15:1 |
| REXFILL VIOLET KBL | PIGMENT Violet KBL | VIOLET 23 |
Product List-Pigment Powders-InOrganics
| | | |
| --- | --- | --- |
| BRAND NAME | Products | C.I.No |
| REXFILL Middle Chrome | PIGMENT Middle Chrome | Yellow 34 |
| REXFILL Lemon Chrome | PIGMENT Lemon Chrome | Yellow 34 |
| REXFILL Scarlet Chrome | PIGMENT Scarlet Chrome | Red 104 |
| REXFILL Primerose Chrome | PIGMENT Primerose Chrome | Yellow 34 |
| REXFILL Zinc Chrome | PIGMENT Zinc Chrome | Yellow 36:1 |