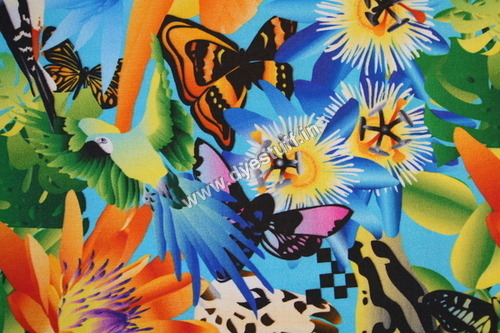 Digital Textile Printing Dyes
Product Code : DTP
Product Description
Backed by experienced and dedicated professionals, we are engaged in manufacturing, supplying and exporting optimum quality of Digital Textile Printing Dyes. With years of domain expertise, we are engaged in offering printing dyes that are widely used for diverse purposes in various industries. These are available in a vast variety of colors and specifications and other customized options to our customers. The offered range of Digital Textile Printing Dyes is used in different application areas.
Key Features:
Easy applications.
greater flexibility
Takes less time.
Good dispersibility
Good heat resistance
Having photo-realistic effects.
Present a variety of exclusive textile designs.
Types of Fabrics
Silk Chiffon
Polyesters Satin

Polyesters Canvas

Cotton Lycra Jersey
Natural Linen
Polyester Canvas
Cotton Canvas
Cotton Sateen
Nylon Mesh
Silk Chiffon
Silk Satin
Cotton Funnel
Crepe Georgette
Other Details
"Digital Textile Printing Dyes"

| | | |
| --- | --- | --- |
| S.No | Brand Name | Product Name |
| 1 | Rexactive Orange H2R | Reactive Orange H2R |
| 2 | Rexactive Golden Yellow HR | Reactive Golden Yellow HR |
| 3 | Rexactive Yellow P8G | Reactive Yellow P8G |
| 4 | Rexactive Red P3R | Reactive Red P3R |
| 5 | Rexactive Red HE7B | Reactive Red HE7B |
| 6 | Rexactive Red ME4BL | Reactive Red ME4BL |
| 7 | Rexactive Red 3B | Reactive Red 3B |
| 8 | Rexactive Red CN2BL | Reactive Red CN2BL |
| 9 | Rexactive Red F3B | Reactive Red F3B |
| 10 | Rexactive Red BBID | Reactive Red BBID |
| 11 | Rexactive Red 2GF | Reactive Red 2GF |
| 12 | Rexactive Red P2B | Reactive Red P2B |
| 13 | Rexactive Red P8BN | Reactive Red P8BN |
| 14 | Rexactive Red 2G | Reactive Red 2G |
| 15 | Rexactive Blue BBID | Reactive Blue BBID |
| 16 | Rexactive Blue HERD | Reactive Blue HERD |
| 17 | Rexactive Blue M4GD | Reactive Blue M4GD |
| 18 | Rexactive Blue RR | Reactive Blue RR |
| 19 | Rexactive Blue HGR | Reactive Blue HGR |
| 20 | Rexactive Blue MR | Reactive Blue MR |
| 21 | Rexactive Blue BRX | Reactive Blue BRX |
| 22 | Rexactive Blue CNG | Reactive Blue CNG |
| 23 | Rexactive Blue P3R | Reactive Blue P3R |
| 24 | Rexactive Blue 3RL | Reactive Blue 3RL |
| 25 | Rexactive Blue CNR | Reactive Blue CNR |
| 26 | Rexactive Blue M2R | Reactive Blue M2R |
| 27 | Rexactive Blue BF | Reactive Blue BF |
| 28 | Rexactive Blue R | Reactive Blue R |
| 29 | Rexactive Navy Blue P2R | Reactive Blue P2R |
| 30 | Rexcet Pontamine Blue SP | Direct Pontamine Blue SP |
| 31 | Rexcet Yellow RL | Direct Yellow RL |
| 32 | Rexcet Light Rose FR | Direct Light Rose FR |
More COLOURS available in ACID DYES & DIRECT DYES
With minimum salt content Or (SALT FREE GRADE)