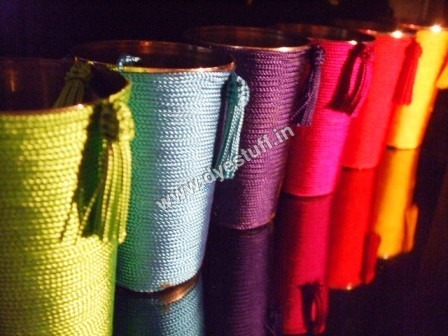 Acid Dyes
Product Code : 03
Product Description
Since our establishment, we are
involved in manufacturing, exporting and supplying a wide range of
Acid Dyes.
Being a professionally managed organization, we are engaged in offering
supreme quality of dyes with the use of upgraded raw material
in its formulation.
All products are formulated using skilled personnel to ensure industry norms and standards. The offered range of
Acid Dyes
is used for various purposes in silk, wool, nylon and many others
Key Features:


Convenient to use
Packaging in Drums, Cartons and Woven bags
Best quality
Deep and Brilliant shades
Environment friendly
Good dispersibility
Good heat resistance
Non toxic

Why Us ?


Quick response
Fast action on requirements
Competitive price
Best quality products
Timely delivery of products
Packaging Experts
An ISO 9001:2008 Certified Company
Packages Available :
Applications :
Silk dyeing
Wool dyeing
Nylon dyeing
Printing
PRODUCT LIST "BASIC DYES"
| | | |
| --- | --- | --- |
| BRAND NAME | PRODUCT | C.I.NO |
| REX CID YELLOW 2G | ACID YELLOW 2G | ACID YELLOW 17 |
| REX CID YELLOW MR | ACID YELLOW MR | ACID YELLOW 42 |
| REX CID YELLOW GR | ACID YELLOW GR | ACID YELLOW 99 |
| REX CID YELLOW 5GN | ACID YELLOW 5GN | ACID YELLOW 110 |
| REX CID GOLDEN YELLOW MR | ACID GOLDEN YELLOW MR | ACID YELLOW 151 |
| REX CID YELLOW M3RL | ACID YELLOW M3RL | ACID YELLOW 194 |
| REX CID YELLOW M5RL | ACID YELLOW M5RL | ACID YELLOW 204 |
| REX CID YELLOW E5R | ACID YELLOW E5R | ACID ORANGE 3 |
| REX CID RED 10B | ACID RED 10B | ACID VIOLET 54 |
| REX CID RED 2G | ACID RED 2G | ACID RED 1 |
| REX CID RED B | ACID RED B | ACID RED 14 |
| REX CID RED 3G | ACID RED 3G | ACID RED 57 |
| REX CID RED G | ACID RED G | ACID RED 97 |
| REX CID RED 3BN | ACID RED 3BN | ACID RED 131 |
| REX CID RED F-2R | ACID RED F2R | ACID RED 151 |
| REX CID RED AIE | ACID RED AIE | ACID RED 195 |
| REX CID RED 2B | ACID RED 2B | ACID RED 249 |
| REX CID RED MBR | ACID RED MBR | ACID RED 362 |
| REX CID RHODAMINE B | ACID RHODAMINE B 400% | ACID RED 52 |
| REX CID MAROON V | ACID MAROON V | ACID RED 119 |
| REX CID BORDEUX BL | ACID BORDEUX BL | ACID RED 182 |
| REX CID SCARLET MGL | ACID SCARLET MGL | ACID RED 357 |
| REX CID ORANGE II | ACID ORANGE II | ACID ORANGE 7 |
| REX CID ORANGE G | ACID ORANGE G | ACID ORANGE 10 |
| REX CID ORANGE RL | ACID ORANGE RL | ACID ORANGE 74 |
| REX CID ORANGE GR | ACID ORANGE GR | ACID ORANGE 86 |
| REX CID ORANGE MRL | ACID ORANGE MRL | ACID ORANGE 142 |
| REX CID ORANGE 3G | ACID ORANGE 3G | ACID ORANGE 156 |
| REX CID LIGHT FAST ORANGE S | ACID LIGHT FAST ORANGE | ACID ORANGE 56 |
| REX CID PATENT BLUE V | ACID PATENT BLUE VS | ACID BLUE 1 |
| REX CID PATENT BLUE AS | ACID PATENT BLUE AS | ACID BLUE 7 |
| REX CID BRILLIENT BLUE FCF | ACID BRILLIENT BLUE FCF | ACID BLUE 9 |
| REX CID ROYAL BLUE FF | ACID ROYAL BLUE FF | ACID BLUE 15 |
| REX CID BLUE S5R | ACID BLUE S5R | ACID BLUE 113 |
| REX CID NAVY BLUE | ACID NAVY BLUE | ACID BLUE 193 |
| REX CID BLUE GR | ACID BLUE GR | ACID BLUE 25 |
| REX CID BLUE PR | ACID BLUE PR | ACID BLUE 129 |
| | | |
| --- | --- | --- |
| REX CID DARK GREEN B | ACID DARK GRREN B | ACID GREEN 20 |
| REX CID GREEN G | ACID GREEN G | ACID GREEN 25 |
| REX CID OLIVE GREEN SGL | ACID OLIVE GREEN SGL | ACID GREEN 73 |
| REX CID OLIVE GREEN MBGL | ACID OLIVE GREEN MBGL | ACID GREEN 104 |
| REX CID GREEN BS | ACID GREEN BS | ACID GREEN 111 |
| REX CID GREEN FCF | ACID GREEN FCF | ACID GREEN 9 |
| REX CID GREEN V | ACID GREEN V 333% | ACID GREEN 16 |
| REX CID VIOLET 5B | ACID VIOLET 5B | ACID VIOLET 17 |
| REX CID VIOLET 4BS | ACID VIOLET 4BS | ACID VIOLET 49 |
| REX CID BORDEUX MB | ACID BORDEUX MB | ACID VOILET 90 |
| REX CID BROWN RD | ACID BROWN RD | ACID BROWN 14 |
| REX CID BROWN DS | ACID BROWN DS | ACID BROWN 58 |
| REX CID BROWN NR | ACID BROWN NR | ACID BROWN 75 |
| REX CID BROWN AT | ACID BROWN AT | ACID BROWN 83 |
| REX CID BROWN MFR | ACID BROWN MFR | ACID BROWN 97 |
| REX CID BROWN 5G | ACID BROWN 5G | ACID BROWN 98 |
| REX CID BROWN HEGT | ACID BROWN HEGT | ACID BROWN 106 |
| REX CID BROWN AFA | ACID BROWN AFA | ACID BROWN 161 |
| REX CID BROWN NT | ACID BROWN AFA | ACID BROWN 165 |
| REX CID BROWN TL | ACID BROWN TL | ACID BROWN 188 |
| REX CID BROWN SGR | ACID BROWN SGR | ACID BROWN 282 |
| REX CID BROWN SR | ACID BROWN SR | ACID BROWN 348 |
| REX CID BROWN SG | ACID BROWN SG | ACID BROWN 349 |
| REX CID BROWN HBR | ACID BROWN HBR | ACID BROWN 354 |
| REX CID BROWN MBR | ACID BROWN MBR | ACID BROWN 355 |
| REX CID BROWN 2BL | ACID BROWN 2BL | ACID BROWN 360 |
| REX CID BROWN M2RL | ACID BROWN M2RL | ACID BRWON 365 |
| REX CID BROWN KN | ACID BROWN KN | ACID BROWN 402 |
| REX CID BROWN 2RL | ACID BROWN 2RL | ACID BROWN 425 |
| REX CID BROWN 3G | ACID BROWN 3G | ACID BROWN 432 |
| REX CID ACID BROWN DCD | ACID BROWN DCD | ACID BROWN 434 |
| REX CID BROWN BL | ACID BROWN BL | ACID BROWN 452 |
| REX CID BLACK 10BX | ACID BLACK 10BX | ACID BLACK 1 |
| REX CID BLACK WA | ACID BLACK WA | ACID BLACK 52 |
| REX CID BLACK SBL | ACID BLACK SBL | ACID BLACL 107 |
| REX CID BLACK D-SL | ACID BLACK D-SL | ACID BLACK 172 |
| REX CID BLACK MSRL | ACID BLACK MSRL | ACID BLACK 194 |
| REX CID BLACK AB | ACID BLACK AB | ACID BLACK 210 |
| REX CID BLACK NB-G | ACID BLACK NG-B | ACID BLACL 234 |
| REX CID NIGROSINE BLACK | NIGROSINE BLACK W/S | ACID BLACK 2 |