Since its commencement,
Colourex
has been climbing up the ladder of success as a leading
Dyestuff Pigments manufacturer and supplier
. We are also involved in
export of a wide gamut of Industrial Dyes, Pearl Pigments, Pigment Powders, Optical Brighteners, Dyes Intermediates, Fluorescent Pigment, Oil Colors, Pigment Paste,
etc., thus serving a large customer base worldwide. Our comprehensive product range is developed using the most advanced technology and optimum quality raw material in order to ensure their
consistency, longevity and reliability
.
Being an NS-EN ISO 9001:2008 / ISO 9001:2008 Certified organization, we ensure to provide unmatched quality merchandise and long lasting results to the clients. With the help of our dedicated, skilled and experienced professionals, we have been able to develop a decent image in the market. Also, our trade membership with Chemexcil enables us render the best possible work in the field. Experienced R & D department, large product line and excellent work delivery on stipulated time, are some other important aspects that have earned us a reputed place in the marketplace. Our Organic Dyestuff and Pigments have unparalleled features like high effectiveness, uncompromising quality and kind-to-environment nature, and thus are widely applauded by the clients.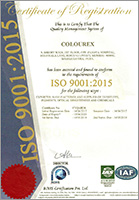 Read More